If you're traveling through West Sedona along State Route 98A for the first time, the locals will forgive you for doing a doubletake. In fact, they expect it. Visitors from across the world come to Sedona, AZ, every year to experience and explore mountains, mesas, and valleys that are unlike anything else in the world. Though visitors are happy to leave the road and head off on foot to view some of Arizona's most spectacular sights up close, one of Red Rock country's most unusual sights isn't far off the beaten path at all and can be found in a Safeway shopping center.
Only One McDonald's Has a Turquoise Color Sign in The World
No matter where you are in the world, you know you've arrived at one of the more than 36,000 McDonald's locations when you catch a glimpse of the famed Golden Arches. That is, of course, unless you're in West Sedona. Visitors passing through Oak Creek Canyon on Arizona's first designated scenic highway, Route 89A, are treated to the sight of the only Turquoise Arches found on a McDonald's restaurant anywhere in the world.
The West Sedona McDonald's was built in 1993. While there is room for debate over the precise shade of the arches (some say they're teal, others turquoise), it's clear to all that they're certainly not the signature yellow that adorns other franchise locations across the globe. The original Sedona arches were opaque and appeared black at night, so in 2015 they received an upgrade with backlighting to make them more visible after dark. Owner-operator Derik Cook donated the original arches to the Sedona Heritage Museum, where they remain on display.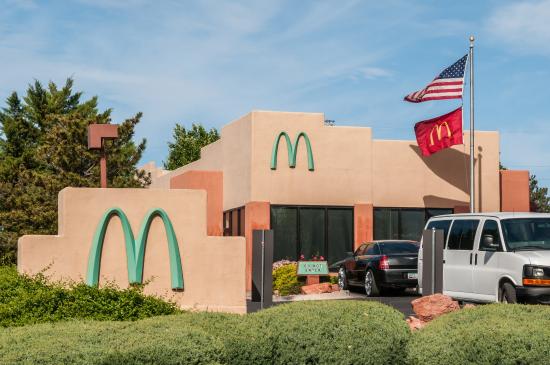 Photo Credit: tripadvisor.com
Why Are McDonald's Arches a Different Color in Sedona?
When your city is home to the type of breathtaking natural beauty you find in Sedona, you take preserving that beauty seriously. When McDonald's representatives approached the city of Sedona about opening a location in the shopping center, they engaged in discussions with Sedona's city council and Planning & Zoning commission. Unlike the typical McDonald's design with its trademark large arches and red and yellow palette, the West Sedona plans were designed to ensure consistency with the Pueblo-revival style of the shopping center without taking away from the surrounding area's natural beauty.
Whether they knew it or not, their collaboration would lead to building one more attraction for visitors to Sedona, Arizona. Today, tourists from all over the world stop at roadside restaurant not only to grab a bite to eat but to snap a picture with the only turquoise arches in the world.
Sedona, AZ City Ordinances
Sedona's city ordinances ensure that the city's beautiful natural landscape is preserved so residents and visitors alike can enjoy it. Once you've seen the wide-open skies and stunning red rock mountains for yourself, you understand why building ordinances in Sedona apply such a careful hand. When McDonald's sought to open the now-famous West Sedona location, the city planner and staff had design review guidelines in place that served as the lodestar of the design process and ensured the site stayed consistent with the character and environment of the city.
Throughout Sedona, city ordinances ensure that structures don't intrude upon the natural scenery. The building code also assures that completed structures will harmonize with the natural colors of the landscape. For McDonald's, this meant their trademark yellow arches wouldn't work in their new location. And though the turquoise arches represented a significant departure from their standard design, they proved the perfect complement to the natural palette of the stunning Southwest city.
Sedona, AZ Building Codes
Sedona's turquoise arches are unique and reflect the commitment of the city's residents to be thoughtful stewards of the land. And while Sedona, Arizona's building codes were drafted thoughtfully to ensure measured and considerate development, similar ordinances are found across the globe to ensure that modern conveniences, historic landmarks, and natural landscapes can co-exist. In fact, travelers worldwide can expect to see other one-of-a-kind McDonald's locations in quite a few cities.
In Bergen, Norway, you won't find any arches at all on the white wood-paneled exterior of one of the city's oldest timber buildings, which houses a McDonald's restaurant. And, while the golden arches are on prominent display at a Roswell, New Mexico McDonald's location, the UFO-shaped restaurant is unlike any other location. And visitors to New Hyde Park, NY, will find all their favorite McDonald's menu items inside a 1795 farmhouse later converted into a 19th-century Georgian mansion before it became home to this Long Island McDonald's, which advertises itself with only a modest sign with nary an arch in sight.
As in Sedona, these cities put their job of maintaining the land's beauty and their city's character so residents and visitors could enjoy it for generations to come.
Conclusion
As a full-service contractor with an award-winning historic preservation team, Loven Contracting is proud to serve clients in Sedona and across Arizona. For 35 years, we've partnered with private, non-profit, and government organizations throughout the Southwest to bring their visions to life while respecting the history and deep traditions that give character and beauty to the land. We're always happy to build a new relationship and would love to hear from you. Whether you are looking for general information, have a question about your construction project, or are interested in working with us as a vendor, contact us today.