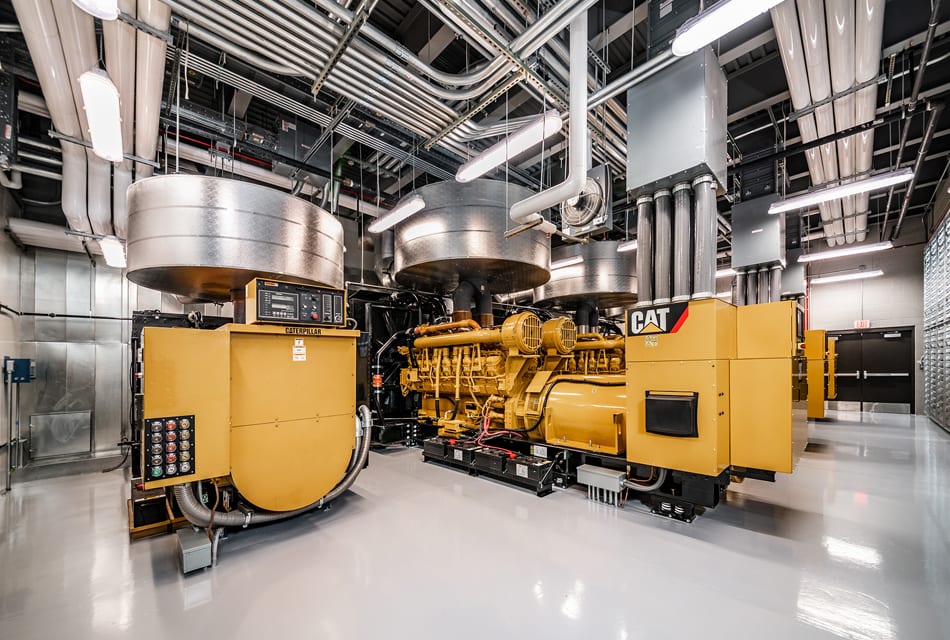 MEDICAL CENTER CENTRAL PLANT EXPANSION

This Design + Build project upgraded aging equipment and utility supplies to accommodate the medical center's operational requirements while reducing operating costs with more efficient equipment. Additional objectives included providing redundancy for critical mechanical and electrical systems, increased space for the Central Plant operations team, and increased capacity of the facility's medical gas systems.
Innovations to the project's design and construction included the second-floor location of the cooling towers in the facility to address space constraints. Large-scale roof penetrations were achieved by increasing the structural support capacity and developing flashing solutions.
A Multi-Phase Remodel & Expansion
Phase 1: Scope of work included upgrades to the med gas storage and disbursement room and systems, along with the installation of new vacuum pumps and compressors.

Phase 2: Scope of work included the construction of new 2-story 4000SF addition for expansion of critical power infrastructure, which included 3 emergency generators and additional electrical equipment, a new 45,000-gallon storage capacity upgrade for emergency diesel fuel, new utility services, and required critical utility relocation. Phase 2 also included TI for updated central monitoring of essential systems, new operations control center, conference room, offices, new yard, and masonry wall.

Phase 3: Scope of work included a 2-story 5,000SF addition with 3 new chillers, 5 cooling towers, pumps, and controls to expand critical heating and cooling infrastructure.
Site safety planning and coordination with multiple stakeholders and user groups were imperative. Loven Contracting promptly notified all stakeholders of system changes and back-up utilization for all essential services.
Photos: Emilio Ferrara and Larry Hendricks